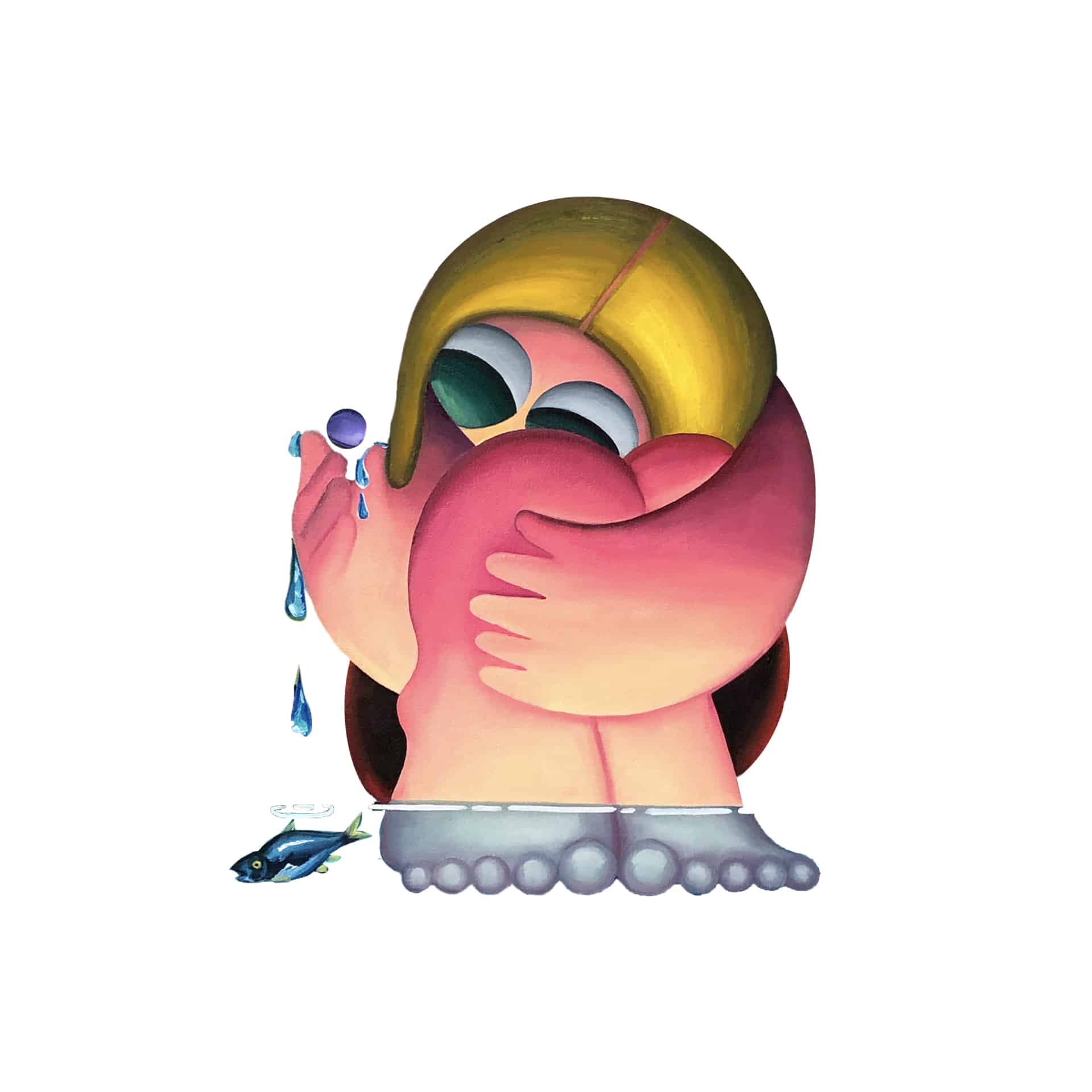 NATALIE WADLINGTON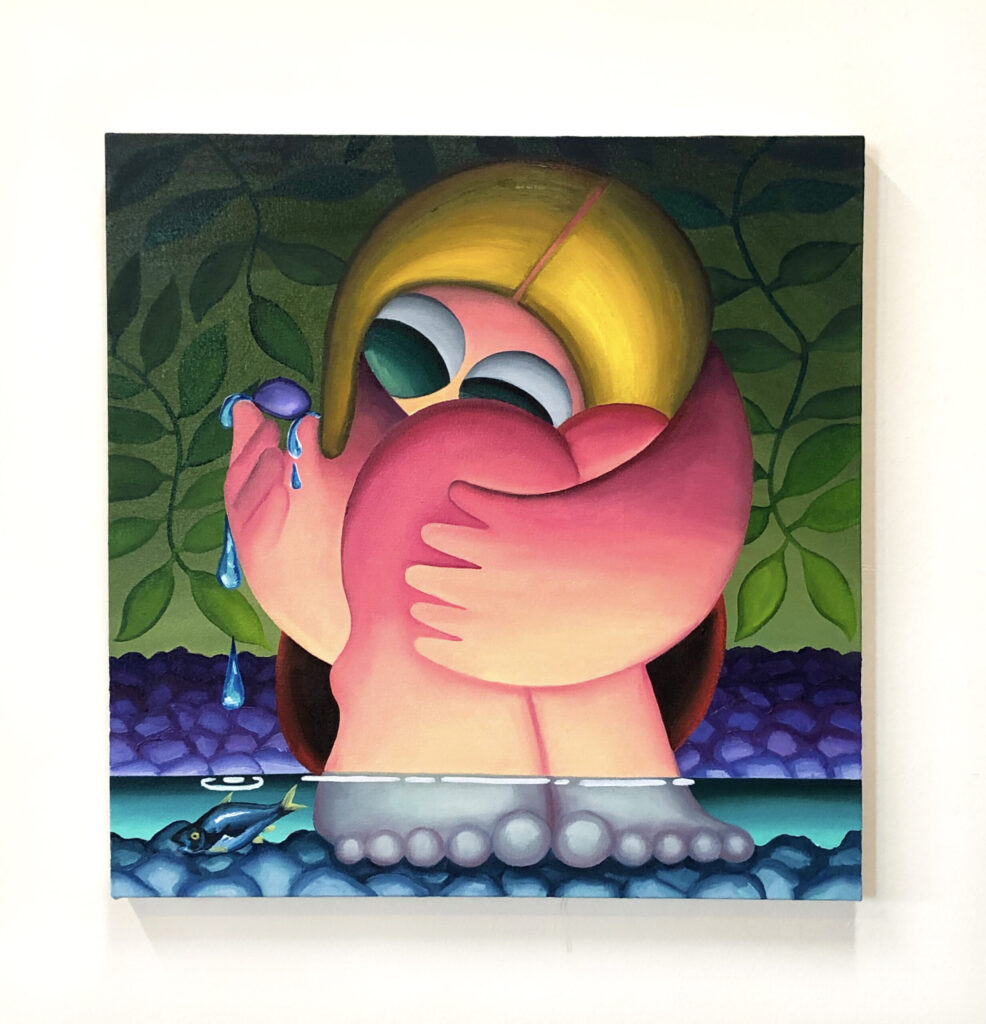 BIOGRAPHY
Natalie Wadlington was born in Modesto, California in 1992. She received her MFA from the Cranbook Academy of Art in 2020.
In her work, Wadlington figuratively portrays relationships in their different hues. She represents, mainly in the rapport of humans to animals, humane symbolic scenes, spanning love to conflict, to internal struggles.
Wadlington is currently based in East Texas where she continues to create.
"More and more, I find myself in complete wonderment at nature. This year has taught me how to live in a space of unknowing, and I now bring that perspective to all forms of looking. In nature as in life, there remain so many mysteries that are locked away in the things outside ourselves, so that all I can do is look." (Natalie Wadlington, 2020).
SELECTED GROUP EXHIBITIONS 
2021    Fragmented Bodies, Albertz Benda Gallery – NYC, USA
2021    Young Dreams, Août Gallery – Beirut, Lebanon
2020    Unit London – London, UK
2020    AXA Art Prize Annual Juried Exhibition, New York Academy of Fine Art- NY, USA
2020    We Used to Gather, Library Street Collective – Detroit, MI, USA
2020    Un/Feeling, Feminist Art Museum – Online Curatorial Platform, USA
2020    Rapid Response Fundraiser, Museum of Contemporary Art – Detroit, MI, USA
2020    Willing the Season, Far x Wide – Brooklyn, NY, USA
2020    Cranbrook Academy of Art Scholarship Exhibition, DAM gallery – Detroit, MI, USA
2020    CrossRoads, River House Arts – Toledo, OH, USA
2020    Online Exhibition Show #63: Hoarders House, Field Projects – NY, USA
2019    Memory Matters, Forum Gallery, Cranbrook Academy of Art – Bloomfield, MI, USA
2019    While Supplies Last, Bellevue Arts Museum – Seattle, WA, USA
2018    Happy/Sad Show, ForumGallery, Cranbrook Academy of Art – Bloomfield, MI, USA
2017    Summer Group Show, Art Space on Main – Turlock, CA, USA
2017    Penumbra Art Show, University Art Gallery – Turlock, CA, USA
2016    From the Trenches, Mistlin Gallery – Modesto CA, USA
SELECTED SOLO EXHIBITIONS
2021    Pooled, Library Street Collective- Detroit, MI, USA
2021    Backyards, Louis Buhl & Co.- Detroit, MI, USA
2021    Anatomy, Library Street Collective- Detroit, MI, USA
2018    Other People's Problems, Epekel Gallery- Merced, CA, USA
2017    Conflicts, Tri-Chromatic Gallery- Modesto, CA, USA
RESIDENCIES
2019    Ox-Bow School of Art and Artist Residency, Fellowship – Saugatak, MI, USA
2018    Other People's Problems, Epekel Gallery – Merced, CA, USA
2017    Conflicts, Tri-Chromatic Gallery – Modesto, CA, USA
EDUCATION
2020    Master in Fine Art, Cranbrook Academy of Art – Bloomfield Hills, MI, USA
2017    Bachelor in Fine Arts, California State University, Stanislaus – Turlock, CA, USA
2014    Associate's Degree in Fine Art, Modesto Junior College – Modesto, CA, USA
PUBLICATIONS
2021    Natalie Wadlington Meditates on the Power Struggle Between Man and Nature in "Pooled", HYPEBEAST
2021    Natalie Wadlington's 'Pooled' explores fragility and crisis through bold and whimsical paintings, The Scene
2021    Natalie Wadlington's Backyards at Louis Buhl & Co., Whitehot Magazine of Contemporary Art
2021    Charming paintings by Natalie Wadlington of wide-eyed characters connecting with nature, Creative Boom
2020    Painting, Conceptually Speaking, Barbed Magazine – Detroit, MI, USA
2020    Oyedrum Volume 1, Oye Drum Magazine – NY, USA
2019    New American Paintings, No. 141 Annual MFA issue
AWARDS/ GRANTS/ SCHOLARSHIPS
2020    Arrowmont School of Arts and Crafts Full Fund Scholarship – Gatlinburg, TN, USA
2020    Anderson Ranch Sculpture Scholarship – Snowmass Village, CO, USA
2020    Mercedes Benz Financial Services Emerging Artist Award – Troy, MI, USA
2020    Detroit Artist Market First Place Award, Detroit Artist Market – Detroit, MI, USA
2019    Second Year Merit Scholarship, Cranbrook Academy of Art – Bloomfield, MI, USA
2018    First Year Merit Scholarship, Cranbrook Academy of Art – Bloomfield, MI, USA
2017    Provost Outstanding Student Achiever Award, Provost Office – Turlock, CA, USA
2017    SERSCA Mini Grant, Office of Research and Sponsor Programs – Turlock, CA, USA
2016    Al Barre Memorial Scholarship, Kiwanis Club- Turlock, CA, USA