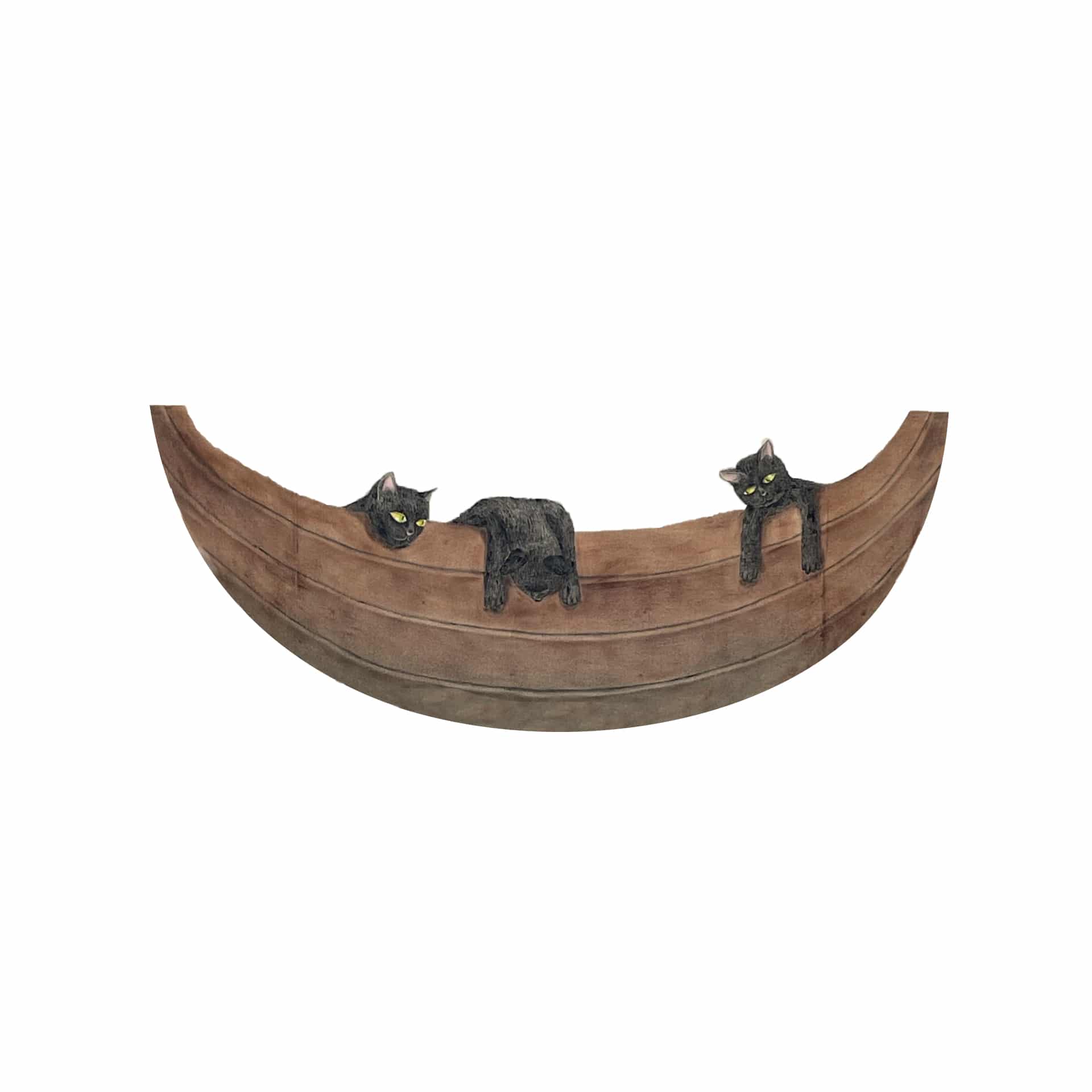 MINYOUNG KIM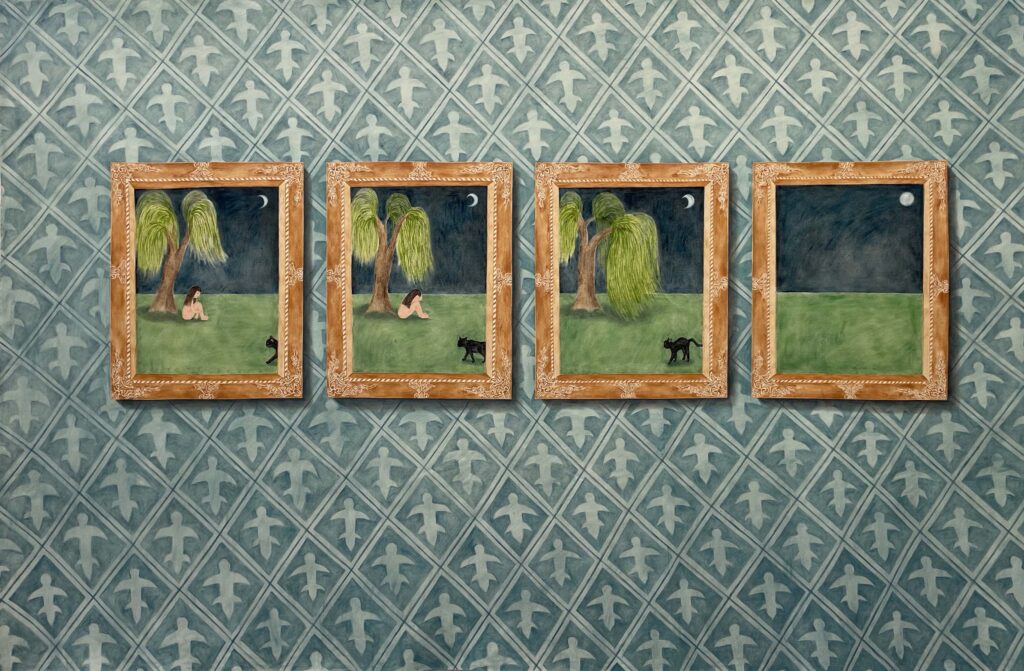 BIOGRAPHY
Born in 1989, in Seoul, South Korea, Minyoung Kim graduated from Sungshin's Women's University with both a BA in Painting and an MFA in Printmaking in 2014.
Kim's work mirrors her inner-most feelings, ones that language fails to express. By using un-stretched raw canvas, she portrays, in a soft manner, ironic scenes that combine what she refers to as strange but cute elements. It's in this ambivalence, both light and serious, that she explores and reveals her inner self.
Currently, Kim resides in London where she is completing her MFA at the Slade School of Fine Art.
« My canvas contains memories, anxiety, regret, desire, dreams, and everything inside me that I may not be able to express myself directly. I sincerely project myself onto the canvas. Sometimes I become a weak mermaid, a human-harming cat, and a woman with a threatening knife.» – (Minyoung Kim)
SELECTED GROUP EXHIBITIONS 
2021    Strange Fairy Tales, Artime Art Center- Kunming, China
2021    Nine Lives, Fortnight Institute- NY, USA
2020    Slade Runner, ASC Gallery- London, UK
2018    Seamless, Space Can- Seoul, South Korea
2016    New Drawing Project, Yanju City Chang UC Chin Museum of Art- Seoul, South Korea- Gyeonggi-do, South Korea
2015    Breathing House Project 2, Thinking Kimi Art Gallery- Seoul, South Korea
2014    50th Anniversary of Sungshin Women's University, Ara Art Center- Seoul, South Korea
2014    Origin of Reproduction Age, Fine Gallery- Seoul, South Korea
2014    Artshow Busan, Bexco- Busan, South Korea
2014    Cube–Independent, Artist Cube- Busan, South Korea
2014    Art Edition Hong Kong 2014, Harbour City & Marco Polo Hotel- Hong Kong, China
2014    YOU! WHO?, Jean Gallery- Seoul, South Korea
2013    The Ugly Duckling, Art Soop Gallery- Busan, South Korea
2013    Th e 31th Sungshin Print, Si:jac Gallery- Seoul, South Korea
2013    ASYAAF, Moonhwa Station, Seoul 284- Seoul, South Korea
2013    ASYAAF, 30 Artists Selection of Artshare Collaboration- Seoul, South Korea
2013    Korean Contemporary Prints Exhibition, Seoul Museum of Kyung-Hee-Geung Palace Annex- Seoul, South Korea
SELECTED SOLO EXHIBITIONS
2021    Moon Garden, Août Gallery- Beirut, Lebanon
2018    The Night was Young, Place Mak-Laser- Seoul, South Korea
2016    The Wrecked Spaceship, Seogyo Art Space- Seoul, South Korea
2016    The Floating Utopia, Doll Gallery- Seoul, South Korea
2014    Belt 2014, Lee Hwaik Gallery- Seoul, South Korea
RESIDENCIES
2018    Residency 2018 Marymond House with Can Foundation- Seoul, South Korea
EDUCATION
2019 – 2021    MFA Painting, The Slade School of Fine Art (Disctinction) – London, UK
2012 – 2014    MFA Printmaking, Sungshin Women's University – Seoul, South Korea
2008 – 2012    BA Western Painting, Sungshin Women's University – Seoul, South Korea
PUBLICATIONS
2021    ArtMaze Magazine Issue 22
2021    ArtMaze Magazine Issue 23
AWARDS
2021    Slade Print Faire Prize
2020    Award Max Werner Drawing Prize (nomination)
2020    Terence Cuneo Award